Convenient Vision Correction
If you've ever worn glasses or contact lenses, you've probably thought about what life might be like if you didn't have to. Laser eye surgery can help you wake up in the morning and clearly see your alarm clock!
We can help you navigate the different types of laser eye surgery available and determine whether you are a good candidate for the procedure. After a comprehensive eye exam, we will help you understand your options and which type of laser vision correction might best suit your situation.
Start your laser eye surgery journey by booking a consultation today!
Book Appointment
What Happens in a Laser Eye Surgery Consultation?
Everyone considering laser eye surgery needs to have a comprehensive eye exam and consultation. We'll take a detailed look at your eyes and discuss your health history and lifestyle needs.
We'll also be sure to discuss your expectations for the surgery. Many people achieve 20/20 vision after their procedure, but some need glasses or contact lenses post-surgery. But, surgery almost always decreases reliance on corrective lenses.
Book Appointment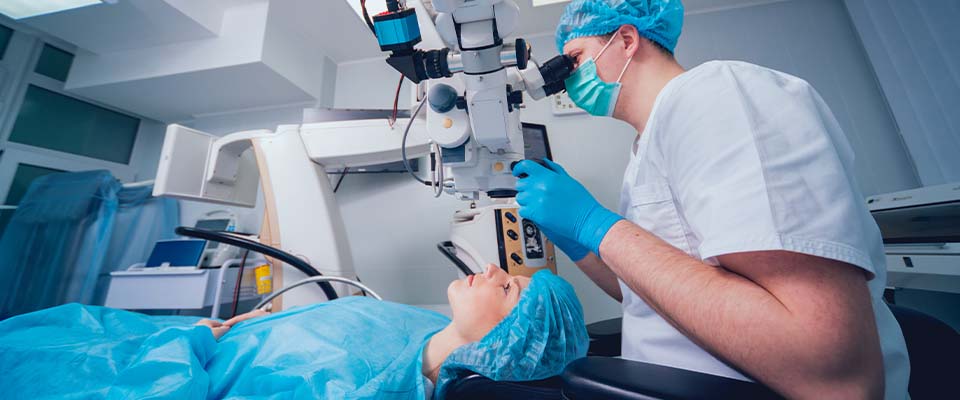 Who Can Benefit from Laser Eye Surgery?
To be considered a candidate for laser eye surgery, your eyes must be in good health. Infections, severe dry eye, or recent trauma may mean you'll need to delay the procedure.
Here are a few other considerations for surgery:
You must be 18 years of age or older.
Your refractive error must not be too great.
Your prescription must be stable.
To find out whether you're a candidate for laser vision correction, book an appointment today!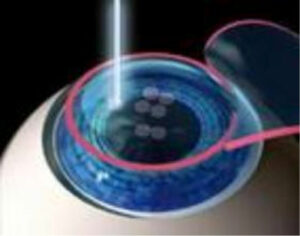 Tired of your glasses or contact lenses? Interested in "laser refractive surgery,"?
We have coordinated our services with several prominent refractive surgeons to provide our patients with the most comprehensive, personalized laser treatment services.
Our doctors evaluate patients as to their ocular health and probability of success with refractive surgery.
Next, we review the "laser refractive surgery" options along with our patient's after surgery goals/expectations, and we select the surgical technique best suited to each patient.
We perform a preoperative evaluation where any difficulties with dry eyes, chronic infection or inflammation are eliminated or controlled prior to surgery.
Then the degree of laser correction is determined and conveyed to both the surgeon and the laser center.
The surgery will be performed at one of the four state of the art "Laser Vision Centers" that is closest to your home.
The post-operative visits are done in our office over a six to nine month period depending on each patient's natural recovery pace.
The rebirth of clear vision without your dependance on glasses or contact lenses is a goal that can be reached just by visiting our office and asking us to begin the process.
What Is Laser Eye Surgery?
Laser eye surgery is a group of procedures—all just a little bit different—that use a laser to correct refractive errors in your vision.
Technological advances have made several types of laser vision correction possible, but the 2 most common types remain LASIK and PRK.
Book Appointment
Welcome to The Optometry Center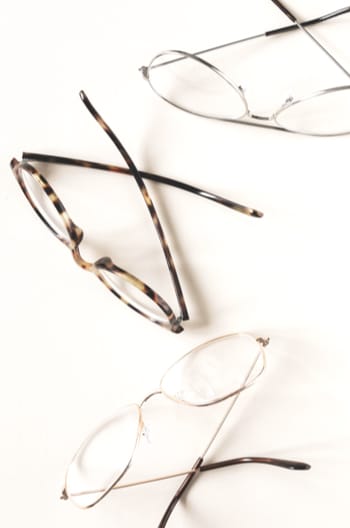 Visit Us
At The Optometry Center, we strive to provide exceptional eye care to meet all of our patient's needs. Our office provides vision care to all ages from 6 months to most senior patients. Using the latest in technology to assist in delivering your eye care, our goal is always to be informative and administer the best in personal care. Learn more about us today, and we look forward to seeing you at your next visit to our office!
If you are new to our website, we invite you to explore and discover all there is to learn about your vision.
1575 B Street

Hayward

,

CA

94541
Hours of Operation
Monday

:

Closed

Tuesday

:

8:00 AM

–

5:30 PM

Wednesday

:

8:00 AM

–

6:30 PM

Thursday

:

8:00 AM

–

6:30 PM

Friday

:

8:00 AM

–

5:30 PM

Saturday

:

8:00 AM

–

5:00 PM

Sunday

:

Closed